BPS District English Standards Book
K-12 Grade Levels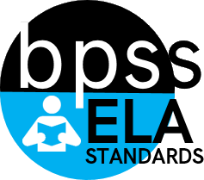 K
1
2
3
4
5
6
7
8
9
10
11
12

[RL] Clusters: Key Ideas and Details | Craft and Structures | Integration of Knowledge and Ideas | Range of Reading and Level of Text Complexity

[RI] Clusters: Key Ideas and Details | Craft and Structures | Integration of Knowledge and Ideas | Range of Reading and Level of Text Complexity

[RF] Clusters: Print Concepts | Phonological Awareness | Phonics and Word Recognition | Fluency

[W] Clusters: Text Types and Purposes | Production and Distribution of Writing | Research to Build and Present Knowledge | Range of Writing

[SL] Clusters: Comprehension and Collaboration | Presentation of Knowledge and Ideas

[L] Clusters: Conventions of Standard English | Knowledge of Language | Vocabulary Acquisition and Use
BPS Identifier System for the Standards
Grade 6 L.2
The individual Standards are organized by their Strand with each Standard having a unique identifier categorized by Subject-Grade Level.Strand.Standard. The Bismarck Public School District has modified the North Dakota DPI Identifiers to fit into our student information system PowerSchool for Standards-Based grading. The image is a short explanation of the components of the identifier modifications which the ND DPI lists as Grade 6 L.2.
Note click on an identifier with a dashed underlined to view more information about the standards. (e.g. I can...statements)
ELA-06.L.02 Demonstrate command of the conventions of standard English capitalization, punctuation, and spelling when writing.
Update Cancel