BPS Music Standards Book
Performing Ensembles
Elementary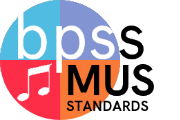 Young children arrive in First Grade with widely varying knowledge in ....
EL Ensemble Music "I can ... statements"
MUS-EL.SdEE "Self-Directed Learners"
Students demonstrate responsibility for their learning by becoming autonomous learners who start and complete their school work without the need for direct supervision or external pressure.
Students demonstrate the ability and willingness to pursue common goals as part of a team, constructively participate in cooperative learning, and communicate effectively in cross-cultural and multi-lingual settings (i.e., with people who have diverse styles, views, and backgrounds).
Students demonstrate the trait of perseverance by continuing to perform their responsibilities and pursue their goals with vigor and tenacity despite frustrations, mistakes, setbacks, and other obstacles that make their task difficult or seem impossible. They resist temptations and pressures to give up or quit, choosing instead to persist as long as they are able.
Students demonstrate confidence in their abilities and inner strength to succeed and endure difficulties, failures, and other forms of adversity.
Students demonstrate trustworthiness by being reliable and dependable, being cautious about making promises and commitments, and conscientious about keeping the promises and commitments they make.