Evidence About Earth's Past (Book)
FOSSILS
- Index Fossils
Fossils are used to determine the ages of rock layers. Index fossils are the most useful for this. Index fossils are of organisms that lived over a wide area. They lived for a fairly short period of time. An index fossil allows a scientist to determine the age of the rock it is in.
Trilobite fossils, as shown in Figure, are common index fossils. Trilobites were widespread marine animals. They lived between 500 and 600 million years ago. Rock layers containing trilobite fossils must be that age. Different species of trilobite fossils can be used to narrow the age even more.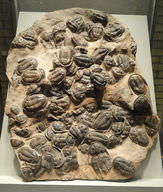 Trilobites are good index fossils. Why are trilobite fossils useful as index fossils?