MUS-06.Pr.05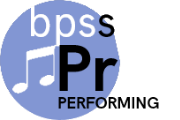 Grade 5 General Music
Anchor Standard 5:
Develop and refine artistic techniques and work for presentation.
Calculations
Anchor Standards are larger groups of related Performance Outcomes. So the Anchor Standard Grade is a calculation of all the related Performance Outcomes listed below.
Performance Outcomes
MUS-06.Pr.05.1a: Identify and apply teacher-provided criteria (such as correct interpretation of notation, technical accuracy, originality, and interest) to rehearse, refine, and determine when a piece is ready to perform.