Rocks (Book)
This chapter discusses the rock cycle and each of the three major types of rocks that form on Earth. Separate sections cover igneous, sedimentary, and metamorphic rocks individually.
Licensed under
 • 
Terms of Use
 • 
Attribution
METAMORPHIC ROCKS
- Contact metamorphism
Contact metamorphism results when magma contacts a rock, changing it by extreme heat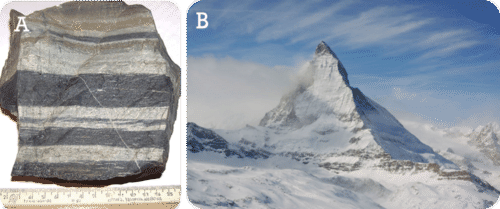 A) Hornfels is a rock that is created by contact metamorphism. (B) Hornfels is so hard that it can create peaks like the Matterhorn.