ELA-JN.JD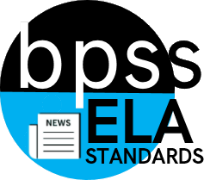 High School Journalism 
---
Design (JD) Strand

Calculations
The Journalism Strands are larger groups of related Standards. So the Journalism Strand Grade is a calculation of all the related Standards. So click on the Performance Outcomes below each Standard to access the learning targets and proficiency scales for each Journalism Strand related Performance Outcomes.
Standards
JD.01 - Present and design information for a variety of audiences and purposes with use of appropriate content to add interest.
JD.02 - Analyze the representation of a subject in two different artistic mediums.
JD.03 - Establish and use consistent style and conform to publication's expectations for overall, cohesive design.
JD.04 - Rules of composition are used effectively to make design more appealing and easy to read and navigate.
JD.05 - Participate in gathering photography coverage for publication.