ELA-JN.JL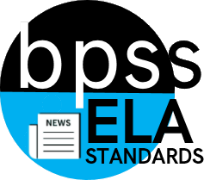 High School Journalism 
---
Language (JL) Strand

Calculations
The Journalism Strands are larger groups of related Standards. So the Journalism Strand Grade is a calculation of all the related Standards. So click on the Performance Outcomes below each Standard to access the learning targets and proficiency scales for each Journalism Strand related Performance Outcomes.
Standards
JL.01 - Demonstrate command of the conventions of standard English capitalization, punctuation, and spelling when writing. Write and edit work so that it conforms to style guides.
JL.02 - Acquire and apply knowledge of language to understand how language functions in different contexts, to make effective choices for meaning or style, and to comprehend more fully when reading or listening at the college and career readiness level; demonstrate independence in gathering vocabulary knowledge when considering a word or phrase important to comprehension or expression.